We've had a lot of requests for this one, so up next for our Pitch Deck Breakdown series in the Brex pitch deck. This was an investor presentation deck used by Brex Motors during their successful Series B funding in 2018.
What Is Brex?
Brex is a San Francisco-based FinTech company that was founded in 2017 by Henrique Dubugras and Pedro Franceschi, a pair of Brazilian-born Stanford students. Co-founders Dubugras and Franceschi had already had success founding a fintech startup called Pagar.me, the "Stripe of Brazil" and one of Brazil's largest payment processors, which had raised $30 million in funding and was already processing $1.5 billion in transactions when it was sold.
Interestingly, Henrique Dubugras and Pedro Franceschi founded Brex as a VR startup, but 3 weeks into the Y Combinator Winter 2017 cohort, the pair pivoted their startup back to their area of expertise, as a FinTech company.
Brex: The Corporate Credit Card for Startups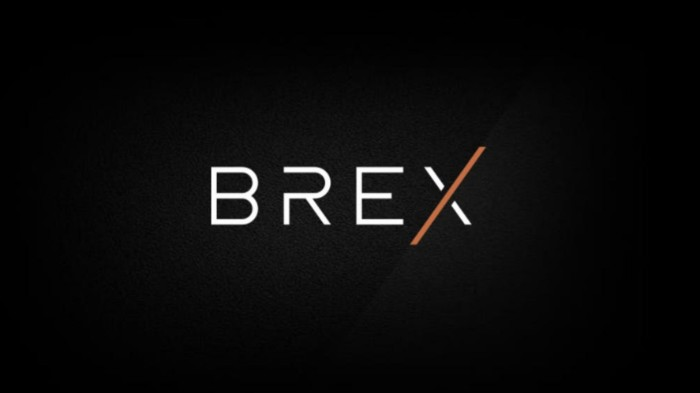 In fact, Dubugras and Franceschi founded a Fintech company to solve a problem that they themselves had faced as co-founders of a startup: how to get corporate credit cards for a startup company with no credit history.
The core of Brex's business is offering corporate credit cards to fast-growing, early-stage companies. Since few new companies have the credit history that old school banks require to issue corporate credit cards, Brex has stepped-in to fill in the gap for those early-stage technology companies that need credit cards to keep up with their rapid growth, and may even have money in the bank, but not the credit history needed to satisfy a traditional bank.
Besides a corporate card, Brex also offers cash management accounts (a "bank account alternative") and spend management software.
Learn more about How to start a business with no money and bad credit scores.
Background of the Brex Pitch Deck and Series B Funding
This pitch deck is from Brex's 2018 Series B funding. Brex's Series B raised $57 million dollars, in a funding round led by Y Combinator. Brex's other investors include Paypal's Peter Thiel and Max Levchin, Facebook Investor Yuri Milner, Ribbit Capital, the former chief executive officer of Visa Carl Pascarella, DST Global, Greenoaks, and Barclay's.
(For more on Y Combinator and other early-stage Fintech investors, check out our 14 Best Fintech Accelerators and Incubators and 10 Best Blockchain Accelerators and Incubators).
What Is Noteworthy About the Brex Pitch Deck?
We get asked about the Brex pitch deck. A lot.
So, let's get down to it. What is the big deal about the Brex pitch deck? And what are the big takeaways for anyone who may be putting together their own pitch deck?
This Is One Unattractive Pitch Deck
Looking over Brex's pitch deck, one thing is clear. This is not a beautifully-designed deck. In fact, it's a downright unattractive pitch deck, one that hardly leaves a good impression on first flip-through.
And of course, that goes against pretty much all conventional wisdom, that pitch decks should be clean, well-designed, and thought-through before they ever make it to potential investors.
How can a successful pitch deck, one that raised over $50 million dollars look like… this?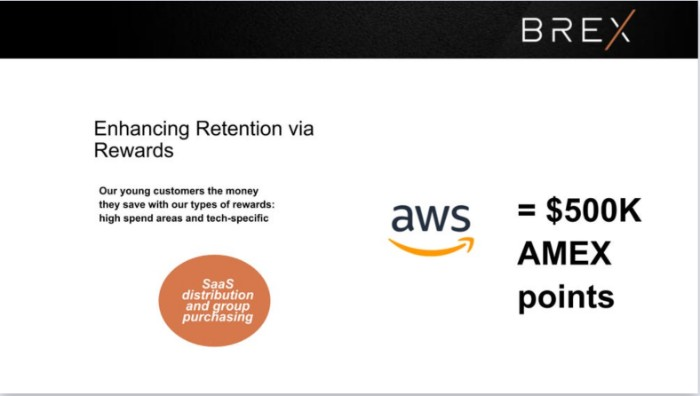 In the years since, Henrique Dubugras has confessed that he and Brex's chief financial officer, Michael Tannenbaum, assembled this pitch deck over the course of two nights, and… well, it shows.
But that may be the point. The Brex pitch deck is a prime example of substance over style. Dubugras's assessment was that their potential investors would care far more about their blowout metrics…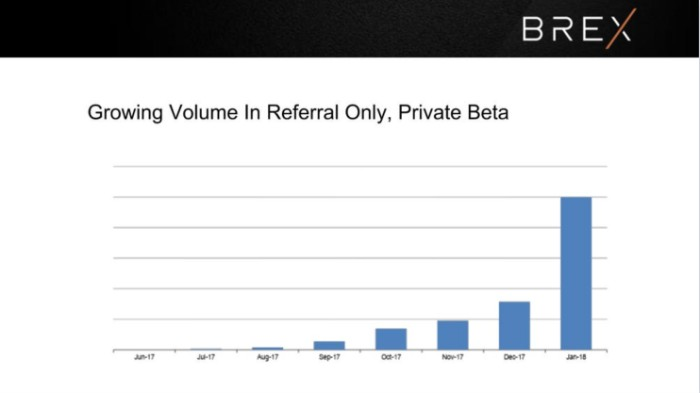 … than the fact that the team had no sense of consistent font sizing, alignment or centering from slide to slide, and couldn't even be bothered to check their text against their graphics.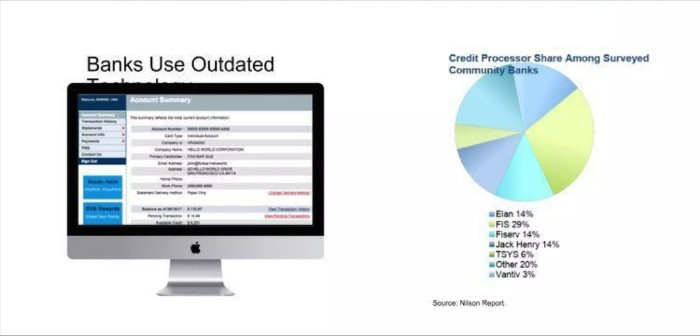 "At the end of the day, investors will see through any pitch deck. I think that the important thing is to be super clear and objective," Dubugras has said.
If anything, the non-design of the Brex pitch deck is a point of pride and almost branding for the team. Dubugras has gone on record as saying that part of the reasoning for the rushed pitch deck was because he wanted to show that the company priorities were on building the company, not on slaving over a one-time investor presentation.
Instead of spending too much time worrying over insignificant details like colors and font size and spacing, the Brex team was busy working on building a unicorn. So yes, the Brex pitch deck is a direct contradiction to the conventional wisdom that an unattractive pitch deck leaves only a bad impression.
That being said, in case you are looking at the Brex pitch deck as a potential pitch deck template for your own deck, I would strongly recommend you keep a few things in mind before you try throwing together a deck in a couple of caffeine-fueled nights:
Brex Had a Known Team with Credibility and Track Record
A big part of why Brex was able to get away with an admitted rough pitch deck was because Dubugras and Franceschi were already coming to table with credibility and track record both in founding a successful startup (Pagar.me) and in raising venture dollars.
With backing from name investors and ton of buzz behind them, Brex was in no way going to be pitching to a cold or unfriendly audience of investors. Brex was a hot startup, and this investor audience was already primed to look past any rough edges and see only the good stuff.
And yes, once you look past the non-design of this pitch deck, the Brex pitch deck actually does a good job in making its key points.
The Team Slide: Levering the Strength of its Team
And a big reason why this was a successful pitch deck is because it leads with its strength: its team.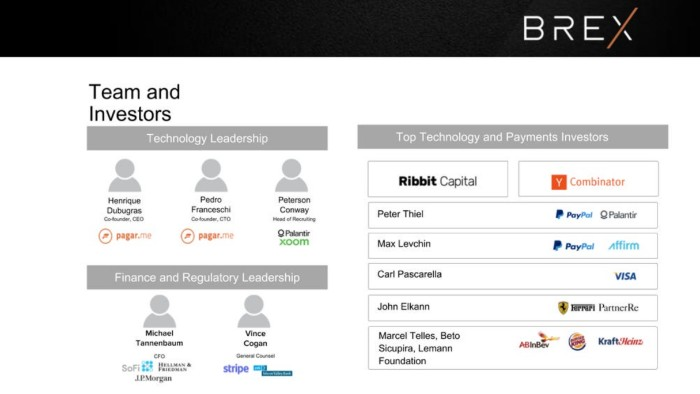 As Dubugras said, Super Clear and Objective were what they went for with this pitch deck, and you cannot get more clear and objective than this slide.
The Brex team slide may be missing the obligatory headshots, but is very clear about the success and experience of its team, as well as the backing of key investors and figures in the fintech area like Peter Thiel, Max Levchin, and Carl Pascarella and venture capital firm Ribbit Capital.
Hey, we've already closed millions from these really smart guys. You should write us a check too!
(And let's face it. If you had a seed stage investor like Peter Thiel, you'd probably be leading off with it, too.)
It's not pretty or subtle, but it's a sure way to hook any venture capitalist into a pitch.
Establishing Founder-Problem Fit
One of the things that the Brex pitch deck does especially well, though, is establish to investors that Brex is an exceptional case of founder-problem fit. That is, that the Brex founders are absolute experts in the problem that they are trying to solve and that they are the best team to solve it.
Having already established that Dubugras and Franceschi have already success as fintech founders with Pagar.me, the next several slides all address the "problem," namely that startups can't get credit cards.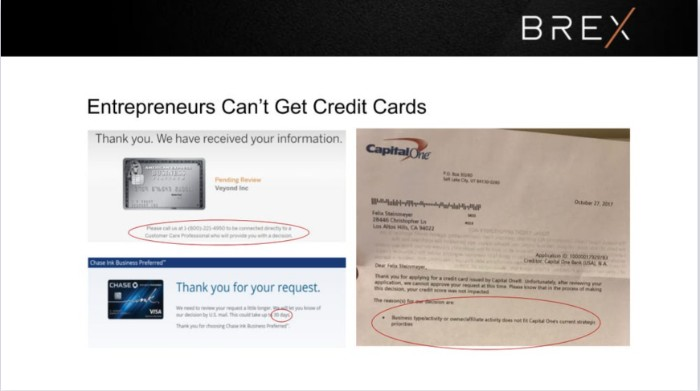 To hammer this point home that this is a problem that the Brex founders personally know all-too-well, these are actual responses that Brex received when applying for credit cards, showing that this is a problem even for leading startups with money in the bank.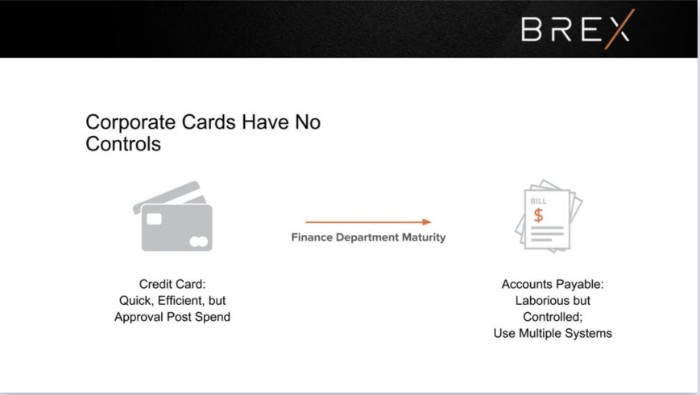 Even when credit institutions do issue credit cards to startups, those cards are not well-suited to the needs of startups who also need a way to manage their employees' spending.
And in classic pitch deck template fashion, they follow it up with the obligatory market slide.
Read more about 8 Essential Fashion Pitch Deck Examples from Successful Startups.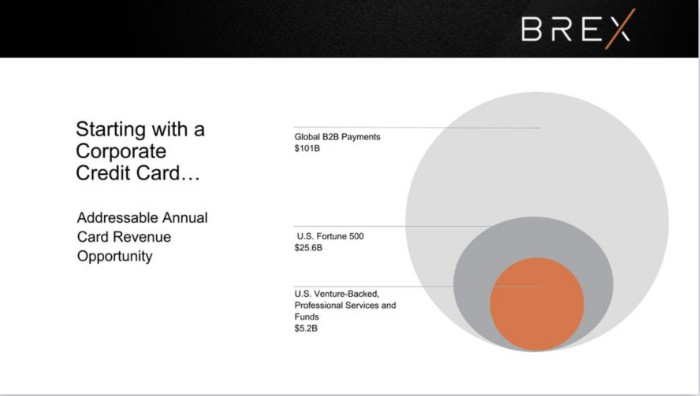 It's all really leading to the last of their key points, and it's a killer…
"We've Got Major Growth and Traction, and Our Unit Economics are Off the Chart!"
And what it comes down to is that Brex had the numbers to back-up their pitch to investors.
This kind of growth is not something that investors see in decks every day.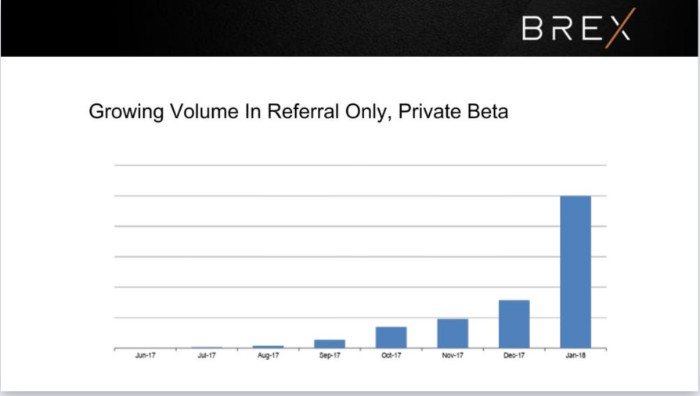 And the economics of Brex's business were eye-popping: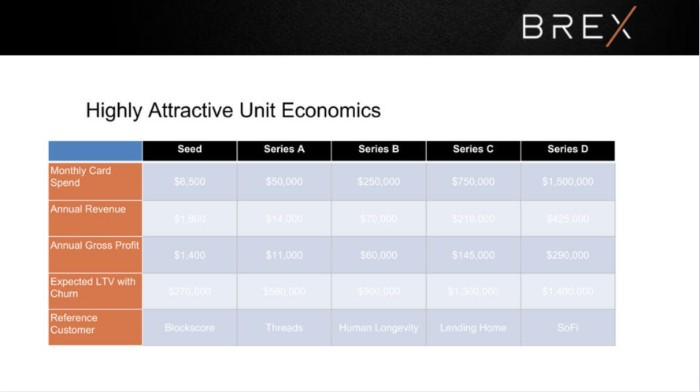 That combined with a team with track record and A-list backing made Brex a hot commodity in Silicon Valley investor circles, and they had no trouble filling their funding round.
The Bottom Line on the Brex Pitch Deck
Brex's pitch deck ends with a simple Investment Value Proposition slide which lays it all out there baldly: "We understand payments are building a company with the financial and technical infrastructure to build a large enterprise."
And that about sums it up. The Brex team did not care about making their deck pretty. Instead, it's all about the excellence of the team, and the value proposition to investors, and despite the non-aesthetics of the deck, they do do that well.
This is definitely not a pitch deck template to follow for most early-stage startups (especially if you're in an industry where aesthetics matter like fashion, marketing, wellness, etc.), but the key points that it does make well are certainly worth taking a look at.
For more on the Brex pitch deck and for more pitch decks from Fintech startups, visit our 25 Fintech Pitch Decks by VC-Funded Startups.
For more from our Pitch Deck Breakdown series, check out our Peloton Pitch Deck Breakdown and Tesla Pitch Deck Breakdown.
For more on the Tesla pitch deck and for more pitch decks from e-commerce startups, visit our 25 Best eCommerce Pitch Deck Examples from Funded Startups
For how to build a stellar pitch deck of your own for venture capital or angel investors, read our article on How to Create an A+ Venture Capital Pitch Deck.
For more on startup fundraising read our articles: How to Raise Venture Capital Funding for Your Startup, Pre-Seed Funding: What it Is and How to Get It., How to Create a Startup Pitch, and Startup Sales Strategy.