Are you a robotics startup founder trying to get new venture capital funding for your own robotics business? Are you the founder of a robotics company wanting to stay up-to-date with innovative and exciting ideas robotics systems?
We've done the research on the best robotics startups around, looking into pitch decks from top robotics startups in a variety of fields from intelligent robots performing robotic assisted surgery to portable autonomous underwater vehicles navigating the ocean floor with computer vision to autonomous picking robots who will soon be picking the strawberries on your breakfast table.
In this blog post, we share our findings so that you can get inspired by the next great robotic technology out there! These are just some of the fascinating projects leading the way in modern robotics engineering. Read on to learn about their stories and what makes them stand out within their field.
What is Robotics and Why is it Important to the Future of Business
Robotics is a fast-growing industry involved in research, design, and engineering of robots. The global robotics industry is rapidly advancing, allowing businesses to create machines that can do complex tasks with great precision, often using smart robots and energy robotics.
As such, robotics systems offers effective solutions for everyday problems in a variety of sectors such as finance, healthcare, manufacturing, and almost any other type of industry. By adopting the latest robotics technology, businesses can improve employee safety by reducing their exposure to hazardous environments; automate tedious processes faster and more accurately; improve customer experience; boost agility and responsiveness in operations; increase revenue experiences with better pricing models; as well as streamline research efforts into new markets with artificial intelligence and machine learning. Robotics research has the potential to be integral to the future of business by helping organizations meaningfully leverage its advantages for improved efficiency and profitability.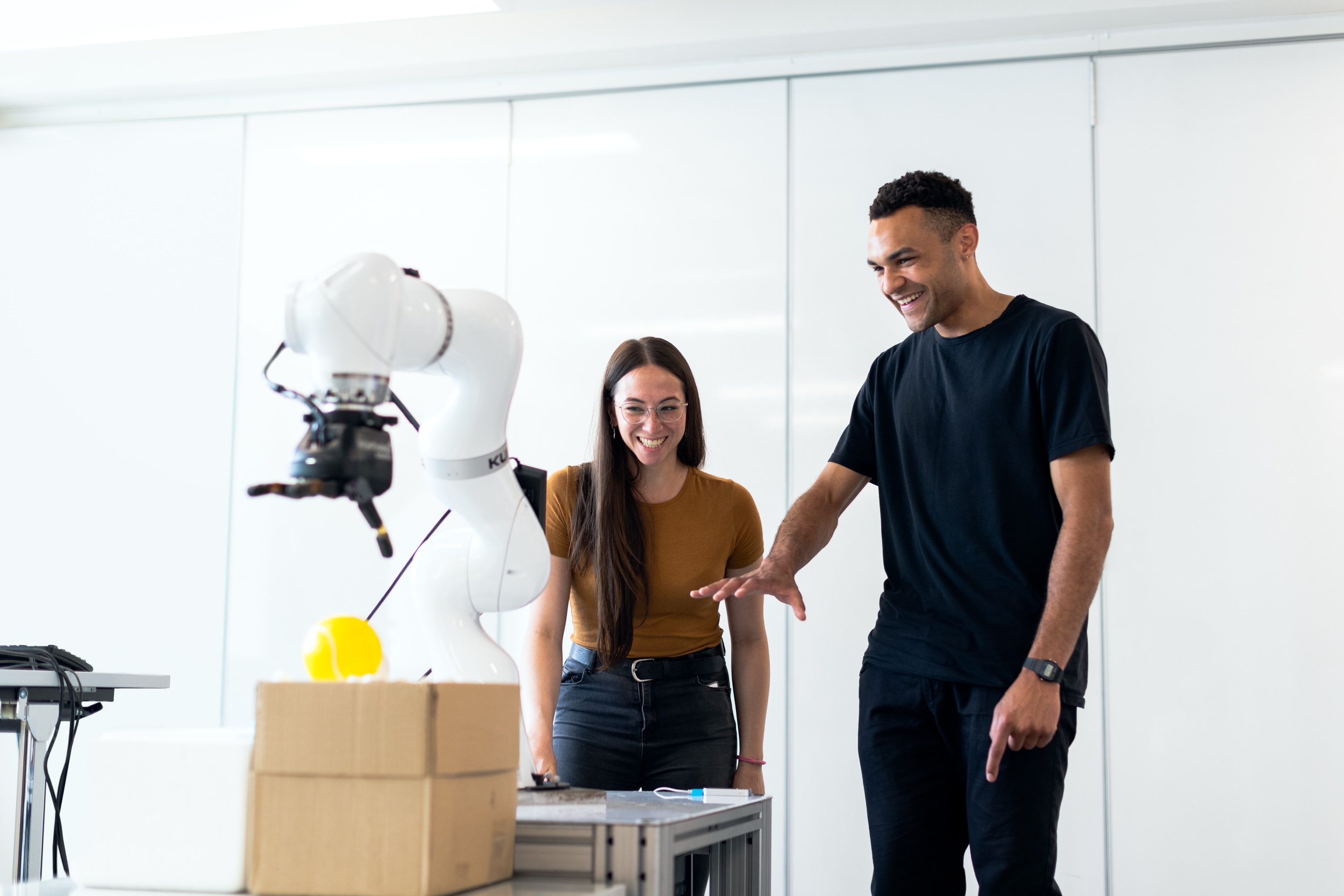 Examples of Innovative Robotics Technology
Vecna Robotics
With the growth of robotics technology, companies are now developing expansive new solutions to tackle traditional problems. Vecna Robotics is a pioneering robotics company with a unique technology that allows its robotic systems to reach spatial awareness up to 24 meters using computer vision robots, providing unprecedented accuracy and autonomy for industries. Additionally, its services allow for teleoperated industrial robotics in hazardous environments like nuclear reactors and offshore oil rigs. With these groundbreaking solutions, Vecna Robotics is creating a movement to revolutionize the robotics industry as we know it today.
Asensus Surgical
Asensus Surgical is a medical technology company that focuses on robotics-assisted surgery. Its surgical robot, Renaissance, uses AI and machine learning to provide real-time assistance during minimally invasive surgery. By leveraging its advanced technologies, Asensus allows surgeons to perform complex surgeries with more accuracy and precision. The robotic system also offers haptic feedback to the surgeon, allowing for greater control and safety during the procedure. Moreover, its intuitive surgical user interface enables surgeons to quickly and easily program the robot according to their surgical plan. Asensus Surgical's technologies provide improved outcomes and enhanced patient satisfaction while reducing overall costs associated with traditional surgery. It is helping advance the quality of care in operating rooms around the world and is revolutionizing the way surgery is performed.    .
Introducing 8 Pitch Decks from Top Robotics Startups
Robotics startups are pushing the boundaries of technology, developing innovative and pioneering solutions in pursuit of a better tomorrow. As such, these robotics companies provide a glimpse into the future possibilities that robots present to us. These 8 Pitch Decks offer an opportunity to explore the dreams, goals and visions of several leading robotics firms and can be a valuable source of insight on modern robotics technology. From eye-catching visuals to detailing actual strategies, these Pitch Decks give everyone a better sense of what new steps forward might look like in the world of robotics startups.
1) Gestoos
Startup Details:
Industry: SaaS, Software, AI, IoT, Machine Learning, Retail, Robotics
Customer Model: B2B
Pitch Deck Details:
Amount Raised: €2.5M
Funding Year: 2017
Funding Round: Series A
Company Website: Gestoos
AngelList: AngelList
This slide deck is from Gestoos, a robotic startup specializing in artificial intelligence (AI) and gesture recognition. This robotics company has developed and will continue to develop robot software solutions to identify and interpret human behavior and gestures in real-time, enabling users to interact more naturally with their environment.
With its cutting-edge technology, Gestoos offers a variety of innovative applications for businesses, developers and end-users, such as gesture-based navigation and motion control. The company's mission is to bridge the gap between people and machines by creating intelligent interfaces that enable us to interact with our environment in a more natural way.
2) Mero Technologies
Startup Details:
Industry: SaaS, Software, Analytics, IoT, CleanTech, Energy, Robotics
Customer Model: B2C
Pitch Deck Details:
Amount Raised: $800K
Funding Year: 2020
Funding Round: Pre-Seed
Company Website: Mero Technologies
AngelList: AngelList
Mero Technologies is a commercial cleaning company developing autonomous mobile robots designed to improve the efficiency and effectiveness of industrial, medical and hospitality cleanings. Mero's industrial robots are outfitted with computer vision and an array of sensors, allowing them to independently navigate their environment without requiring direct control from their operators. They also come equipped with analytic tools and machine learning algorithms that can detect potential hazards in their environment and adjust the cleaning cycle accordingly. The company's robots automate labor intensive and repetitive tasks which are common in cleaning, reducing the need to employ people for these physically demanding tasks.
Mero Technologies' mission is to provide an autonomous yet safe cleaning method that increases efficiency, reduces costs, and improves the overall quality of service in a variety of industries. Furthermore, their robots are designed to be friendly and engaging for customers and employees alike, providing a more enjoyable cleaning experience.
3) Rovilus
Startup Details:
Industry: Energy, CleanTech, Manufacturing, Transportation, Construction, Hardware, Robotics
Customer Model: B2B
Pitch Deck Details:
Amount Raised: $150K
Funding Year: 2019
Funding Round: Pre-Seed
Company Website: Rovilus
AngelList: AngelList
Rovilus develops safe and reliable battery packs for industrial vehicles. Rovilus' innovative thermal management technology provides market-leading longevity, increases operational efficiency by 3.5 times and reduces total cost of operation. Rovilus also offers a range of telematics solutions that allow fleet operators to track and monitor their vehicles in real-time. These features enable customers to reduce downtime, maximize battery utilization, increase safety and create smarter fleet operations. Rovilus' mission is to provide reliable power solutions for industrial machinery so that companies can improve operational efficiency and minimize environmental impact. The company's vision is to make sustainable and affordable energy available for everyone. Rovilus' solutions are already being used in the automotive, construction, industrial, logistics and equipment rental sectors. With a strong focus on customer needs and innovation, Rovilus is helping its customers increase efficiency, reduce cost and create better operations.
4) Omate
Startup Details:
Industry: Hardware, IoT, Productivity, Construction, Robotics
Customer Model: B2C
Pitch Deck Details:
Amount Raised: $1M
Funding Year: 2013
Funding Round: Crowdfunding
Company Website: Omate
AngelList: AngelList
Omate is a global technology company focused on the development of wearable products and smart home devices. They are dedicated to making people's lives easier, healthier and more secure with their innovative products. They provide a range of products such as smartwatches, activity trackers, smart health accessories and home security systems. Omate strives to provide superior quality products and services that exceed customer expectations in both performance and value.
The Omate Yumi robot is a revolutionary robotic companion designed to provide companionship, entertainment, and assistance to its owners. Using artificial intelligence, the humanoid robot can understand natural language commands as human input, execute tasks autonomously, interact with other devices in the home and monitor your household activities. The Yumi comes with an HD camera as a cognitive engine that can recognize faces and track movement and robotic arms as well as a range of sensors to detect sound, movement and temperature for unpredictable environments. It is also equipped with a powerful processor that can handle complex tasks like facial recognition and navigation. Yumi can be used for the elderly or those requiring special assistance, as well as providing fun activities for kids.
Omate's Yumi mobile robots have made it a market leader, revolutionising home automation and personal assistant robots with its intelligent and adaptive features.
5) Avision
Startup Details:
Industry: App, Drone, Software, Logistics, Robotics
Customer Model: B2C
Pitch Deck Details:
Amount Raised: $600K
Funding Year: 2018
Funding Round: Seed
Company Website: Avision
AngelList: AngelList
Avision provides innovative drone and robotics solutions for a wide array of industries. Their mission is to provide powerful, reliable and easy-to-use robotic systems that enable businesses to optimize their operations for greater efficiency and cost savings. Avision designs, develops, and creates reconnaissance drones and autonomous flying drones, autonomous mobile robots, sensors and software platforms tailored to the customer's specific needs. They also provide operational support, maintenance and training services to help customers get the most out of their systems. With a strong focus on customer satisfaction and innovation, Avision is revolutionizing the world of drone and robotic systems and helping businesses of all sizes benefit from its powerful capabilities.
Their solutions are already being used in logistics, the agricultural industry, mining, construction and security applications, among others. By leveraging cutting-edge technology, Avision is creating smarter, more efficient ways for businesses to operate and helping them reduce costs and maximize efficiency.
6) Butlr
Startup Details:
Industry: SaaS, IoT, AI, Software, Analytics, Robotics
Customer Model: B2B2C
Pitch Deck Details:
Amount Raised: Undisclosed
Funding Year: 2020
Funding Round: Seed
Company Website: Butlr
AngelList: AngelList
Butlr is a space occupancy and sensor startup that utilizes artificial intelligence (AI) and Internet of Things (IoT) technologies to automate processes related to the management of building spaces. By leveraging its AI-powered analytics capabilities, Butlr provides insights into the utilization of any given workspace and enables businesses to maintain optimal occupancy levels in buildings. The solution helps businesses gain better control over their space, track occupancy levels in real-time, and take proactive measures to reduce energy consumption. It also assists in automated social distancing compliance to ensure a safe working environment as well as facilitates seamless access management for visitors, employees, and contractors. With Butlr's solutions, businesses can optimize their space occupancy and reduce energy consumption to save costs. Consequently, businesses can enhance their efficiency, productivity and profitability.
7) FairFleet
Startup Details:
Industry: SaaS, Drone, IoT, Robotics, Construction
Customer Model: B2B2C
Pitch Deck Details:
Amount Raised: Undisclosed
Funding Year: 2015
Funding Round: Pre-Seed
Company Website: FairFleet
AngelList: AngelList
FairFleet is a drone solutions company that specializes in providing services to the construction industry. Its flagship software platform, FairFleet Platform, combines aerial and ground-based data collection with AI-driven analytics to deliver insights into projects such as infrastructure management, asset inspections and site surveying. With its advanced robotics technology and powerful cloud computing infrastructure, FairFleet enables businesses to automate their operations and gain real-time insights into the performance of their projects. This allows them to make more informed decisions quickly and accurately while also improving safety and efficiency on construction sites. By utilizing drone technologies, FairFleet provides a cost-effective, data-driven approach that can revolutionize the way businesses in the construction industry operate. Furthermore, it helps businesses streamline their operations and save time and money. In this way, FairFleet can provide a competitive edge to businesses that want to stay ahead of the curve.
8) VisionFul
Startup Details:
Industry: SaaS, Transportation, IoT, AI, Machine Learning, Software, Hardware, IT, Robotics
Customer Model: B2B2C
Pitch Deck Details:
Amount Raised: $150K
Funding Year: 2019
Funding Round: Pre-Seed
Company Website: Visionful
AngelList: AngelList
Visionful is a leading provider of software solutions that help companies create, manage, and track their corporate vision. Their tools enable teams to define and communicate their mission and goals, visualize how each team member fits into the picture, measure progress towards their objectives, and develop plans for success. By providing insight into company performance across departments, Visionful helps organizations make informed decisions that drive successful business outcomes.
What Makes These Pitch Decks Stand Out from Others in the Industry
As robotics technology advances, companies are continually finding new ways to stand out from the competition with their pitch decks. The top robotics startups emphasize that their technology will be revolutionary in hopes of securing investment and signing potential customers. Many times, the fresh ideas and advanced technical knowledge of these startups is highlighted in order to better explain what sets them apart from the rest of the pack. Their striking visuals also make their decks unique, as they create simple pictures or 3D models that effectually demonstrate the complexity of their designs and capabilities. Through both powerful language and captivating images, these robots startups are able to make a lasting impression on investors, ultimately helping them achieve success in an increasingly competitive industry.
For more on startup fundraising read our articles: How to Raise Venture Capital Funding for Your Startup, Pre-Seed Funding: What it Is and How to Get It. How to Create a Startup Pitch
Need More Pitch Deck Inspiration?
Check out our:
25 Essential SaaS Pitch Decks for Startups,
25 Fintech Pitch Decks by VC-Funded Startups,
25 Best eCommerce Pitch Deck Examples from Funded Startups,
8 Best Biotech Pitch Deck Examples from Established Startups,
8 Essential Fashion Pitch Deck Examples from Successful Startups,
16 Best Social Media Pitch Deck Examples from Well-Known Startups,
31 Best Marketplace Pitch Deck Examples from VC-Funded Startups,
11 Best Real Estate Pitch Deck Examples from Established Startups,
5 Best Crypto Pitch Decks from VC-Funded Startups,
12 Essential Healthcare Pitch Decks from VC-Funded Startups,
8 Essential Fashion Pitch Deck Examples from Successful Startups,
10 Successful Sports Pitch Deck Examples from VC-Funded Startups,
12 Best Travel Pitch Decks from VC-Funded Startups,
11 Pitch Decks from Top Proptech Startups,
12 Best Travel Pitch Decks from VC-Funded Startups,
7 Pitch Decks from Established InsurTech Startups,
19 Best Pre-Seed Pitch Decks from Early Stage Startups.
4 Essential Pitch Decks from VC-Backed Agriculture Startups,
17 Essential Series A Pitch Decks by VC-Funded Startups,
27 Pitch Decks from Top B2B Startups,
15 Pitch Decks from Successful Big Data Startups,
14 Pitch Decks from Top Machine Learning Startups,
and 19 Best Edtech Pitch Deck Examples.