Yep, up next for our Pitch Deck Breakdown series in the Tesla pitch deck. This was an investor presentation deck used by Tesla Motors after their initial public offering in 2010.
What Is Tesla Motors?
Tesla Motors is an American automotive and energy company that designs, manufactures, and sells electric vehicles as well as solar panels, battery storage systems, and other related products.
Tesla was founded in 2003 by by Martin Eberhard and Marc Tarpenning in San Carlos, California with the mission of accelerating the world's transition to sustainable energy. An early investor in Tesla, Elon Musk became CEO of the company in 2008;
With over 10 million electric performance cars sold worldwide, Tesla has become one of the most recognizable names in the auto industry. The company is committed to creating innovative, high-quality, and affordable electric vehicles that are powered by clean energy sources and are accessible to all consumers. Tesla Motors is known for having revolutionized transportation with its advanced technologies, innovative design and style, superior customer service, and commitment to sustainability.
Background of the Tesla Pitch Deck
This Tesla pitch deck appears to date from 2011, which would have been after its initial public offering which netted an eye-popping $226 million in 2011. It was likely used in a post-IPO investor presentation to raise additional funds based on the success of the launch of the Tesla Model S.
What Is Noteworthy about the Tesla Pitch Deck
Okay, you may be asking yourself, "Why on earth was Tesla raising even MORE money after that $226 million from its IPO?"
Well, clearly, this is not the typical investor pitch deck from a Series A or Series B startup, but this Tesla pitch deck was still clearly designed to get an audience of deep-pocketed investors excited about where the Tesla was going and ready to write checks for it to get there.
So while this is the deck for an early stage startup to get ideas on how to present a classic Problem-Solution story, The Tesla pitch deck still a good deck to reference for a few specific key points…
Tesla Pitch Deck: "We're already a successful team!"
Right off the bat, this pitch deck wants to be clear… this is a top-flight team has already had a lot of success.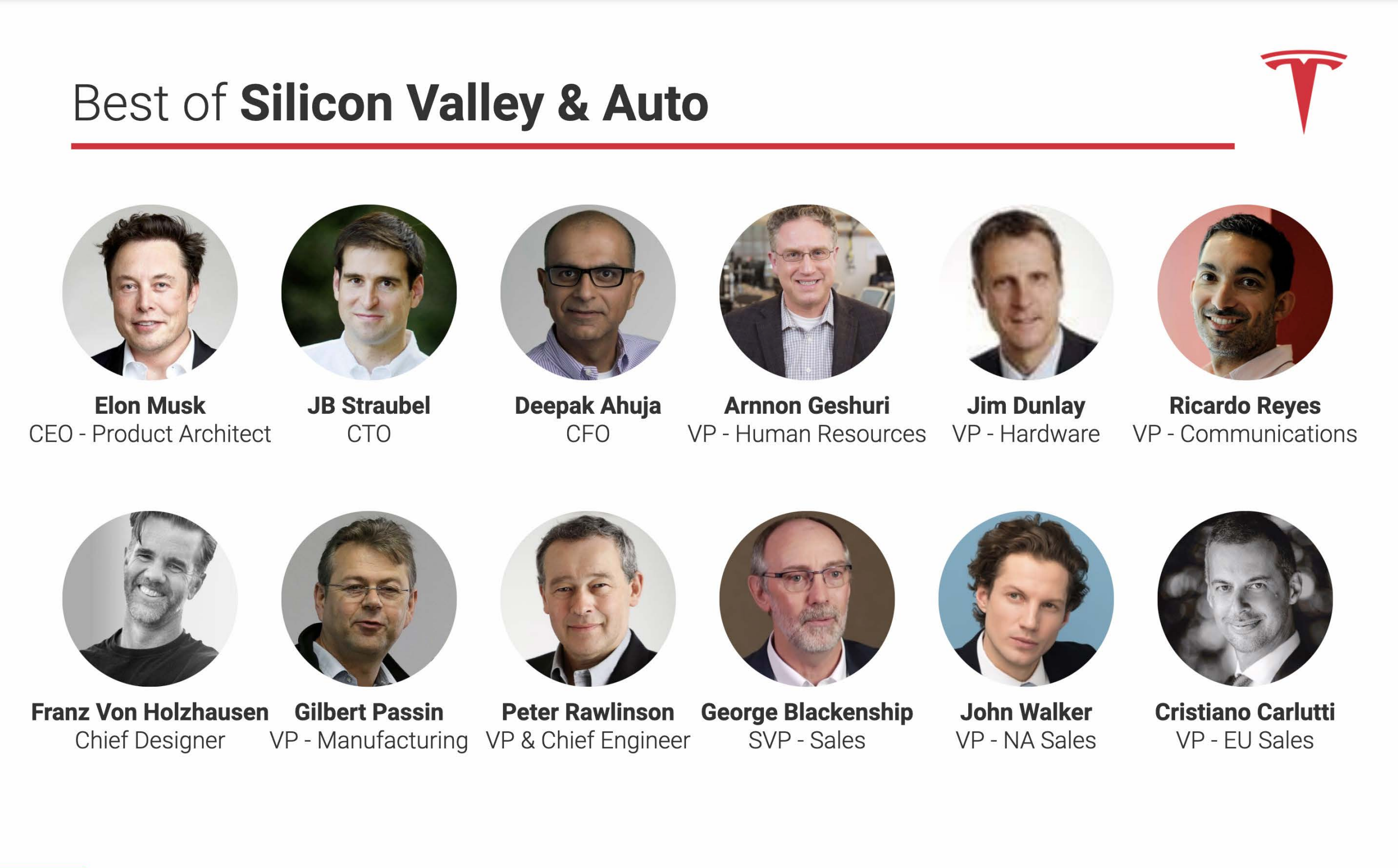 Unlike many pitch decks which wait until later in the presentation to talk about the management team, this Tesla deck opens by describing the team as the "Best of Silicon Valley * Auto." (No ego involved there… ahem…).
The Tesla Pitch Deck and Social Proof
In fact, the pitch deck goes on, huge legacy auto and electronics firms believe in us as well, and they've put their money where their mouth. If you (prospective investor) write us a check, you will be in the company of:
Toyota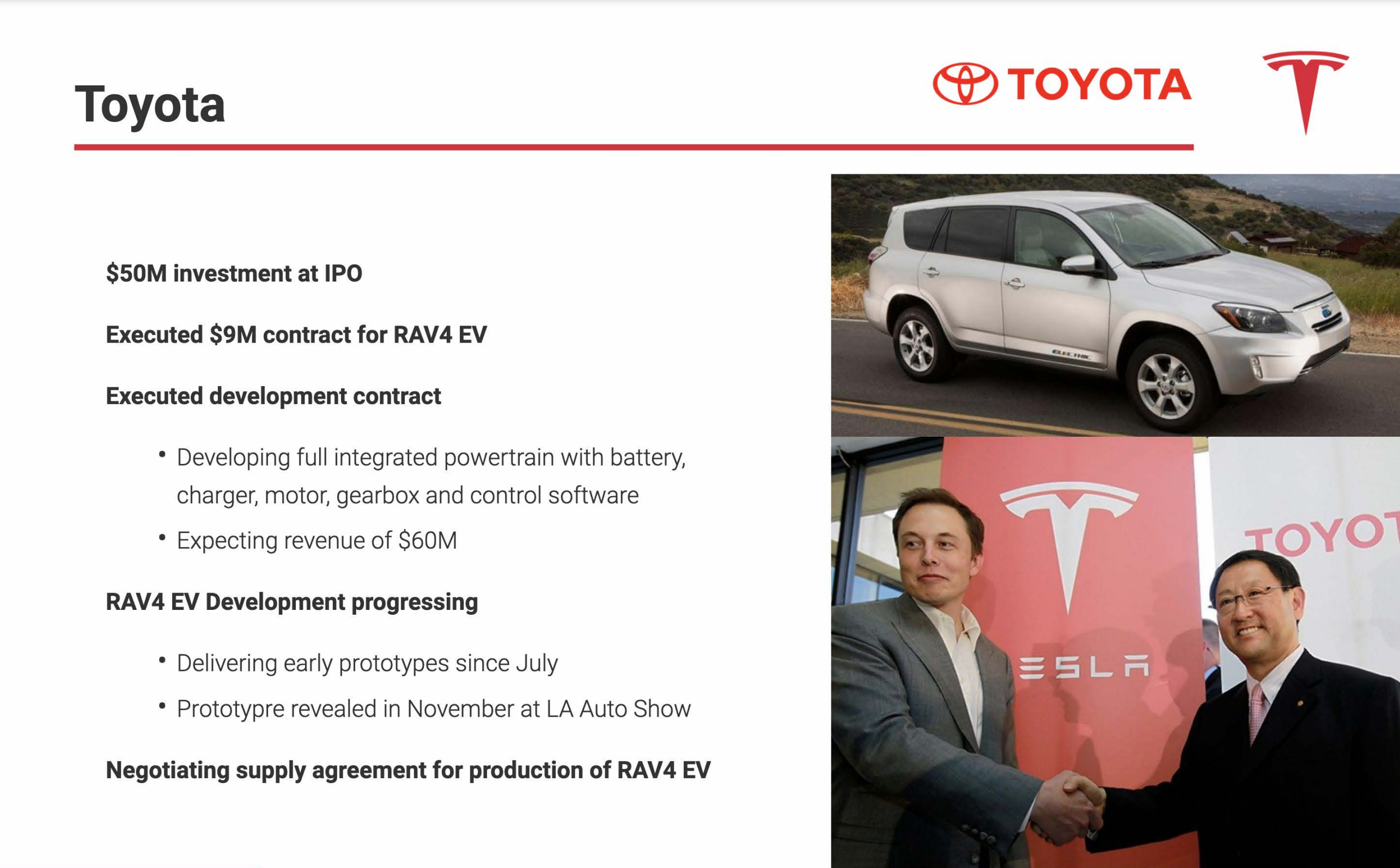 With investments in Tesla's IPO and partnership in developing the RAV4 EV, Tesla's relationship with Toyota was a major vote of confidence in the auto industry.
Panasonic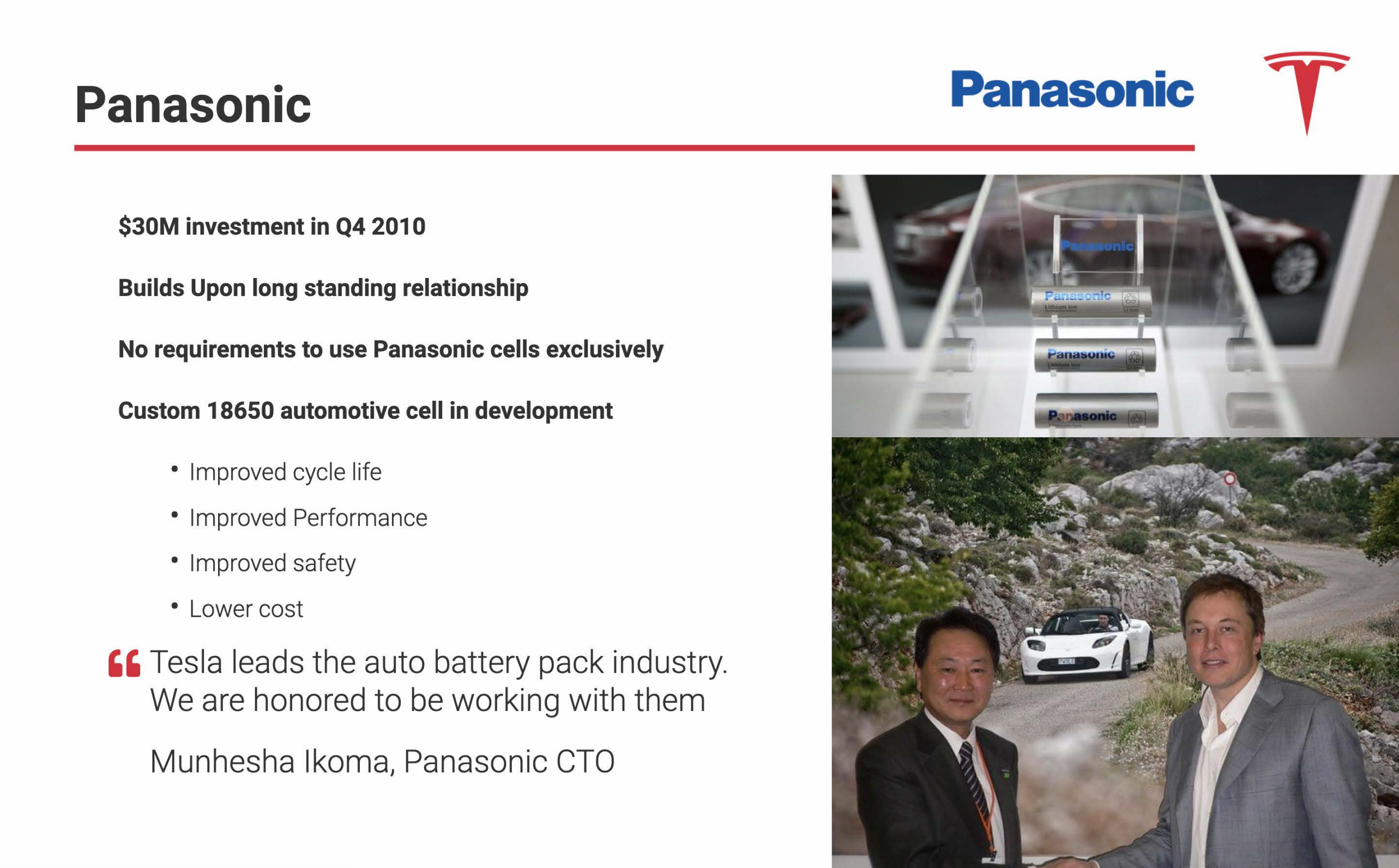 Tesla's relationship with Panasonic established credibility for the technology of its electric vehicles.
Daimler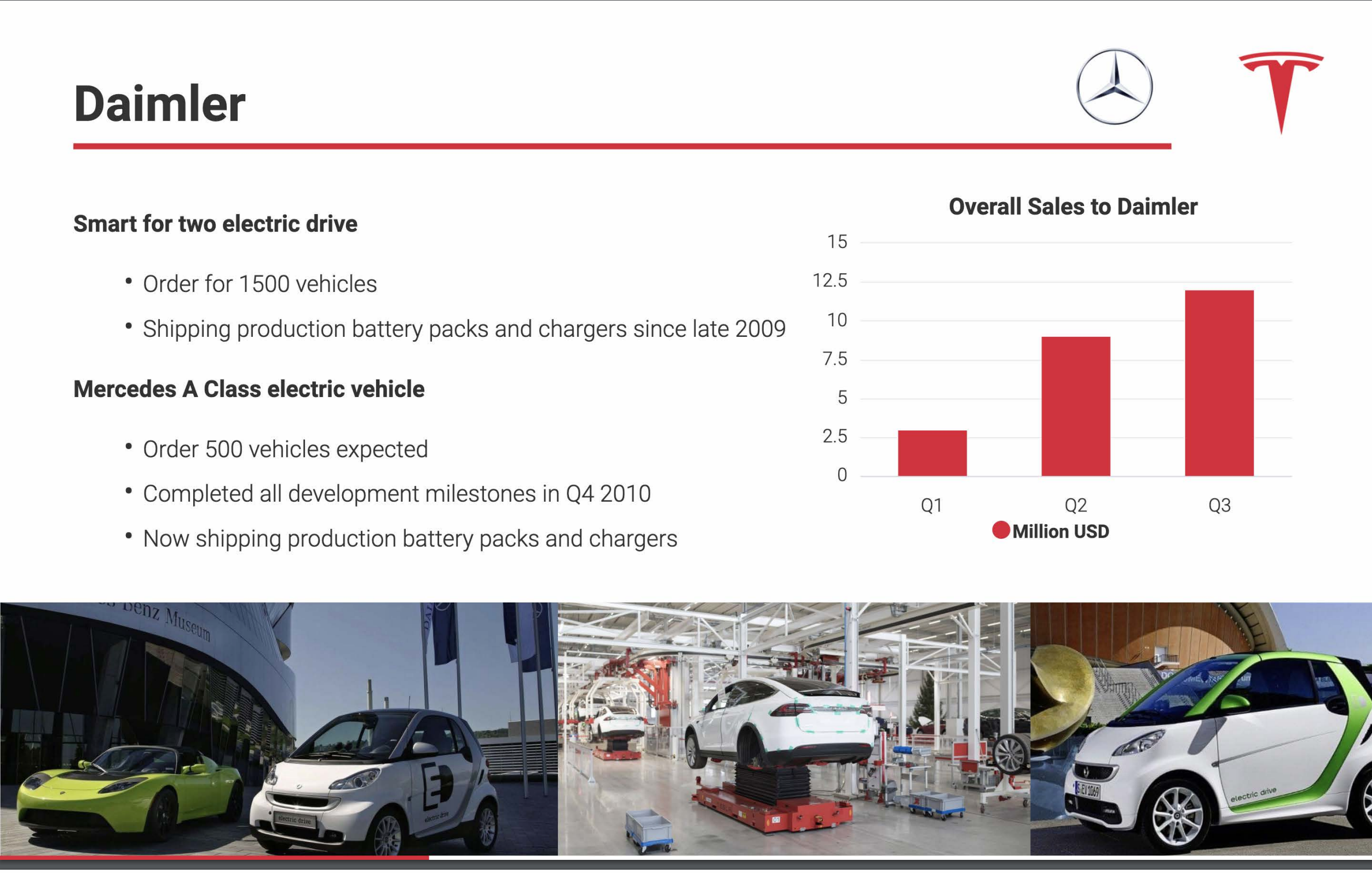 Altogether, Tesla assembled an impressive line-up of partners to bolster the credibility of its team and its technology with investors before getting into the details of its strategy, and most importantly, what it seeks to fund.
The Tesla Pitch Deck and the Launch of the Model S
The pitch deck then moves into slides on the company's success with the recent launch of reservations for the flagship Model S.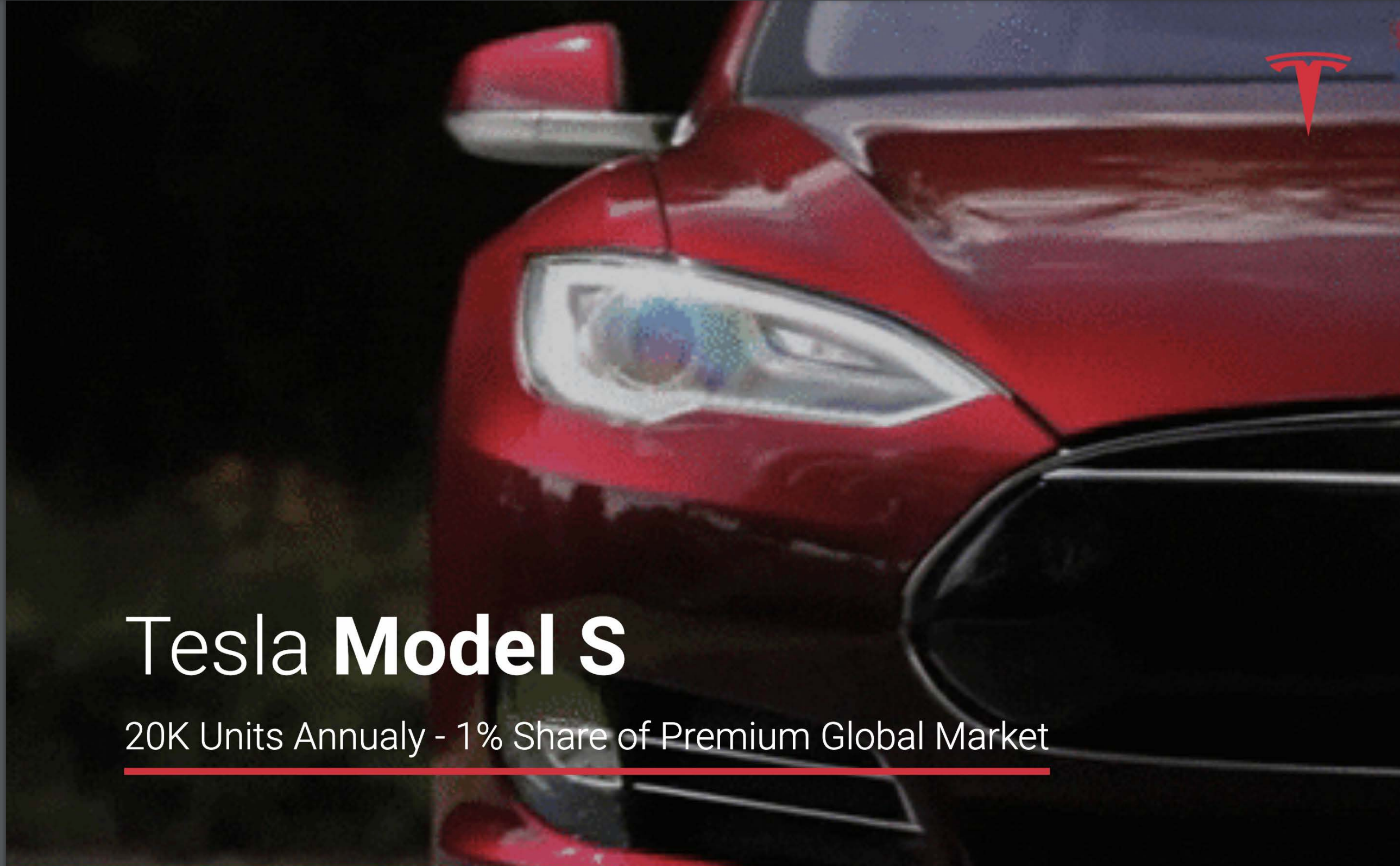 The pitch deck discusses both the Model S's success from a design and innovation perspective…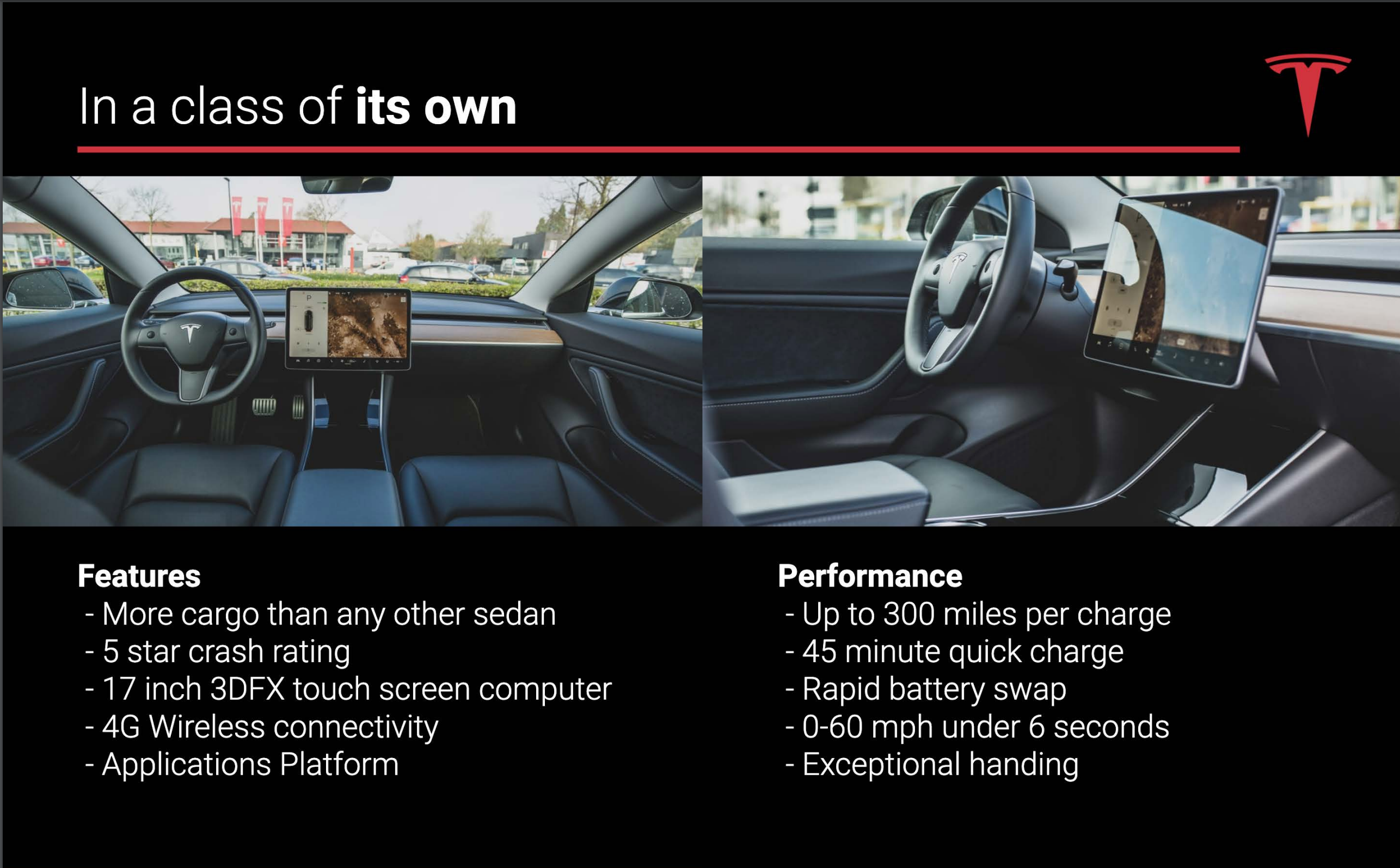 … as well as how the Model S had become a hit in customer reservations prior to beginning sales. (Customers love us already! The market is ripe!)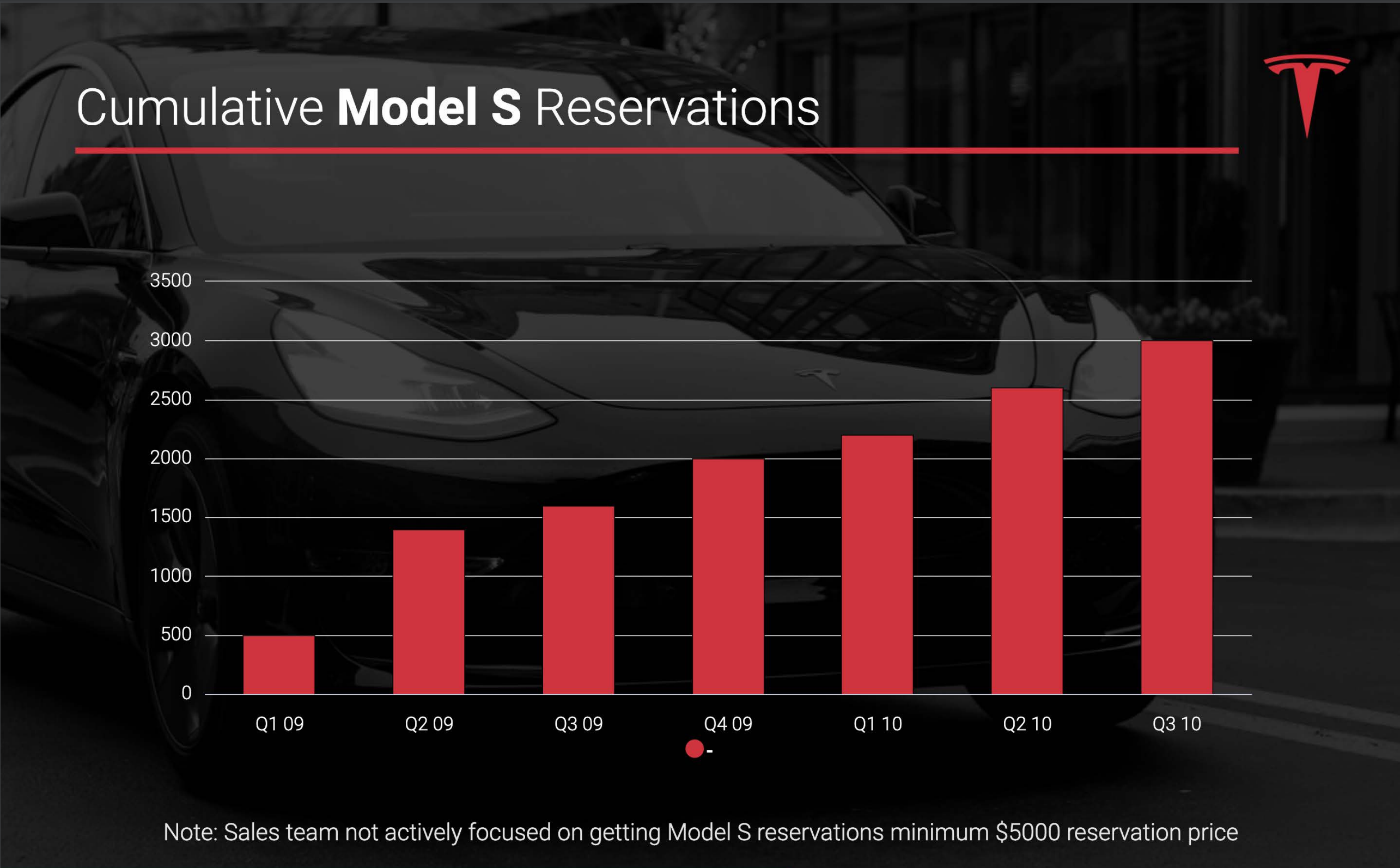 The Tesla Pitch Deck and the Broader Market Opportunity
Which brings us the crux of what this pitch deck is about, and why Tesla is asking for money: their expansion strategy.
Having established the expertise of their management team, credibility from partnerships with legacy players in the market, and past success with the roadster and highly-anticipated launch of the Model S, the rest of the pitch decks slides all concern the expansion into the broader market opportunity that the company is seeking funding for.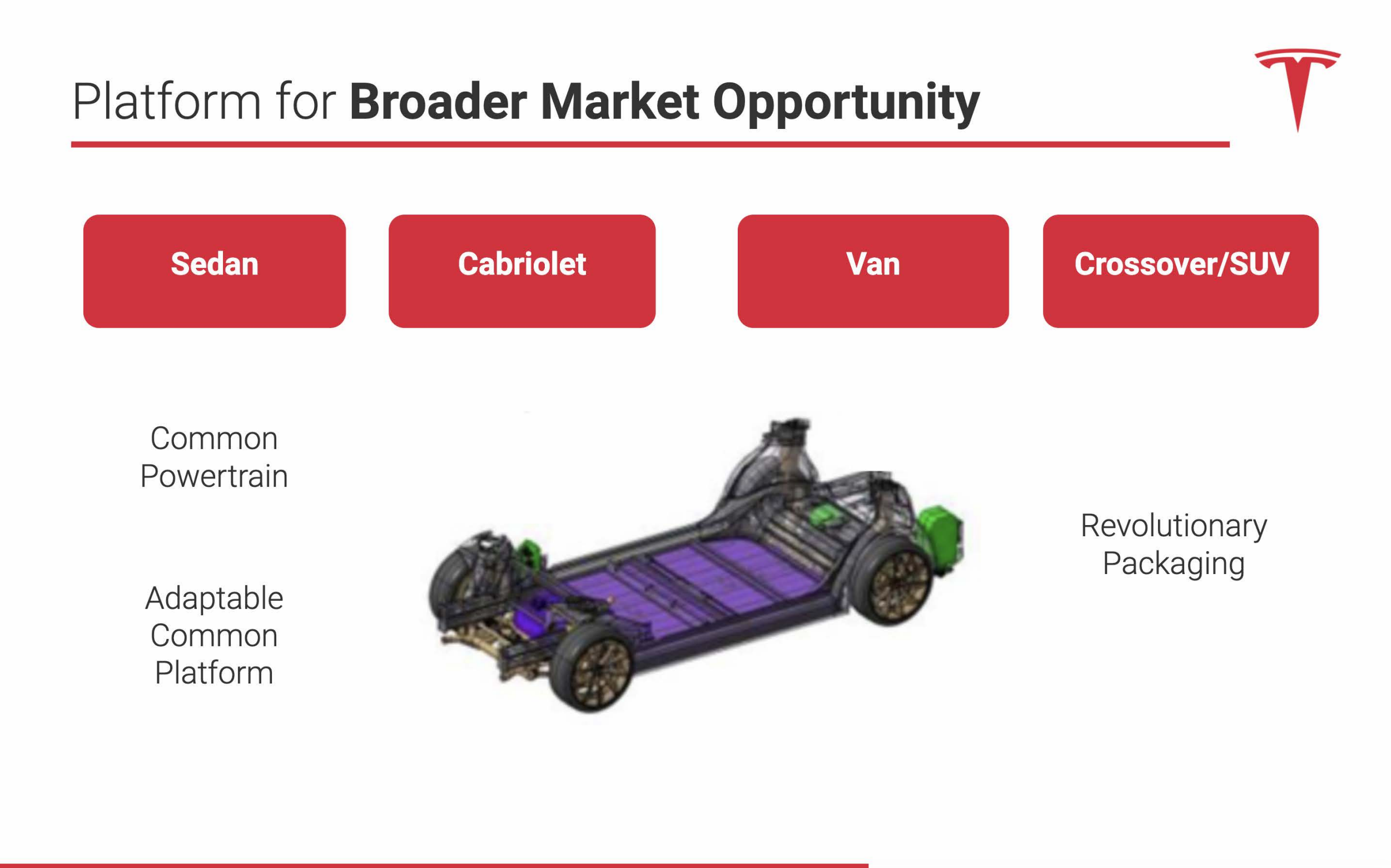 All the preceding slides of the pitch deck have been to set-up the ask for funding to support Tesla's developing a full range of cars for the growing market for electric vehicles, including family sedans, vans, and SUVs.
And as with any good deck, the Tesla pitch deck also discusses the planned use of funds, including the development of Tesla's Fremont recently purchased Fremont facility.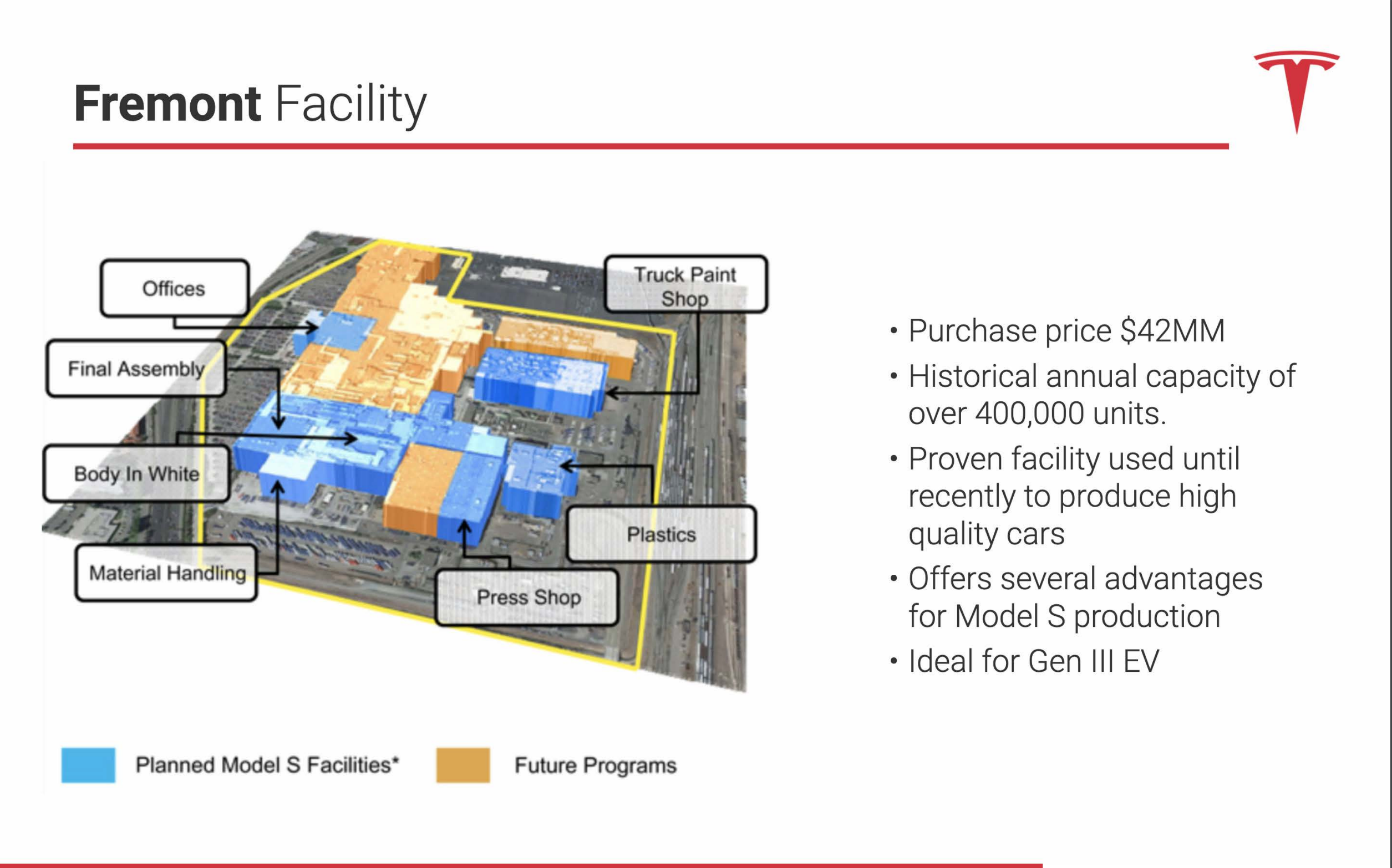 The Bottom Line on the Tesla Pitch Deck
This Tesla pitch deck is definitely not a classic 10-12 slide deck from an early stage startup, but it's still useful as reference point for tech companies with strong slides that establish a superstar management team, industry credibility indicators, and a broad market opportunity to be seized.
A unicorn that is still worth taking a look at!
For more from our Pitch Deck Breakdown series, check out our Peloton Pitch Deck Breakdown and Brex Pitch Deck Breakdown.
For more on the Tesla pitch deck and for more pitch decks from e-commerce startups, visit our 25 Best eCommerce Pitch Deck Examples from Funded Startups
For how to build a stellar pitch deck of your own for venture capital or angel investors, read our article on How to Create an A+ Venture Capital Pitch Deck.
For more on startup fundraising read our articles: How to Raise Venture Capital Funding for Your Startup, Pre-Seed Funding: What it Is and How to Get It. and How to Create a Startup Pitch.